How to Stripe a Parking Lot with Foil Backed Pavement Tape
1. Begin with a sound surface that is clean and free of dirt, gravel, oil, grease, or flaking paint.  The asphalt does not have to be smooth, but remember, the  rougher it is, the more pressure you will need to use to conform the tape.  Smooth surfaces require less pressure.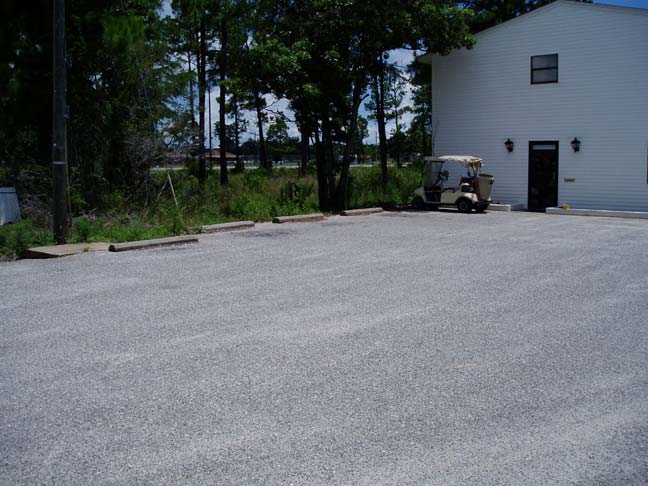 2. Thoroughly sweep loose particles and dust from area where tape is to be applied. Compressed air or a wire brush may be needed for caked , dirty or flaky areas.  Pavement tape will stick to asphalt and cement, but not caked dirt.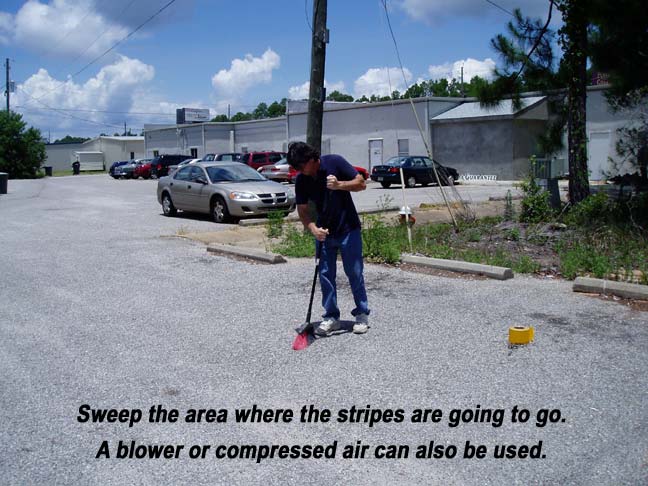 3. For better adhesion, an application primer such as DAP contact cement can be used.  To increase longevity with DAP contact cement, simply coat the surface where the stripe will go, let the contact cement dry completely, and then apply the tape.  For areas where cars may be twisting tires when parking, DAP contact cement as a primer is especially recommended. On rough or questionable surfaces you can apply DAP Weldwood Contact Cement to the pavement or cement as a primer, let it dry, and then apply the pavement tape. This will level out the surface a little and will provide much better adhesion. (do not use the water based contact cement)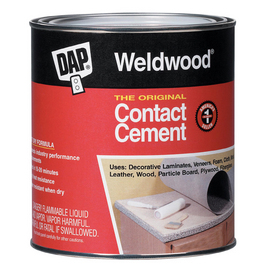 4.  Lay out your first parking lot stripe.  The length of each section is normally about 18 – 20 feet.  Secure one end, roll out the tape, and cut squarely with scissors. The temperature should be no less than 50 degrees before and after tape application. Allow at least 48 hours after rainfall for the sun to dry pavement. Also, it is best if it does not rain for 48 hours after installation. Always allow sunlight to dry morning dew. Application is not recommended during overcast, moist and humid atmospheric conditions.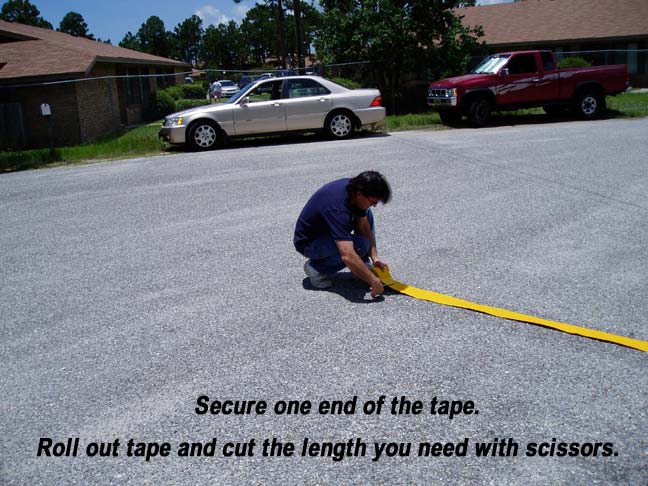 5. Once you have laid out a line, immediately tamp it in with your feet to semi secure it to the surface of your parking lot.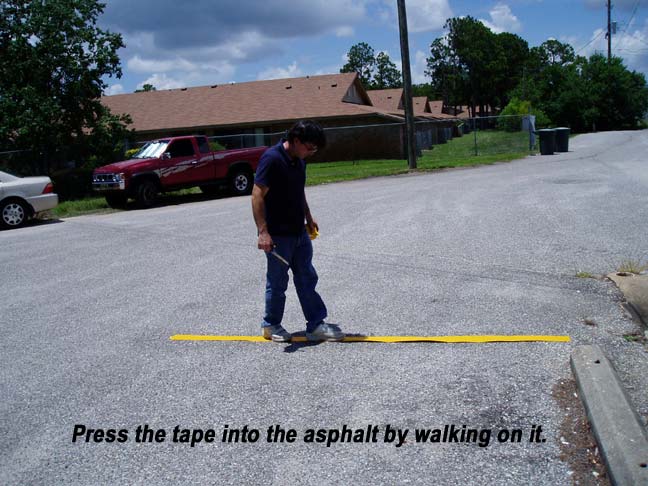 6. Apply a minimum of 200 lbs of pressure with a golf cart or automobile tire.  Go straight over the tape and be careful not to twist on it. For better results, wait 24 hours, and then press in one more time.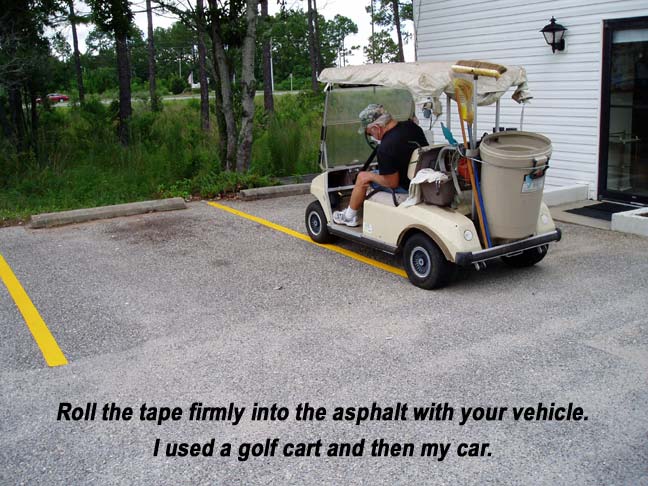 7. Area is now ready for traffic. Tape adhesive will cure in 48 hours.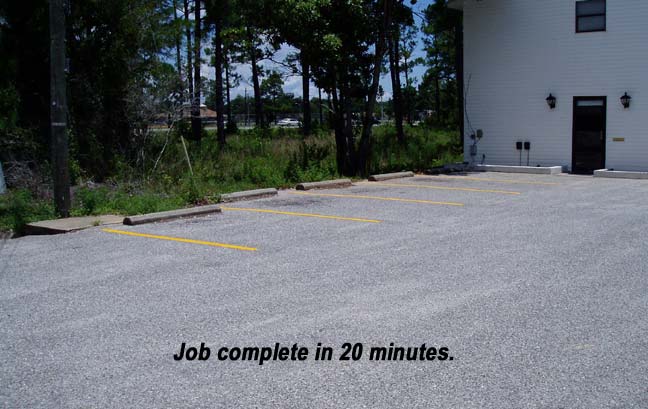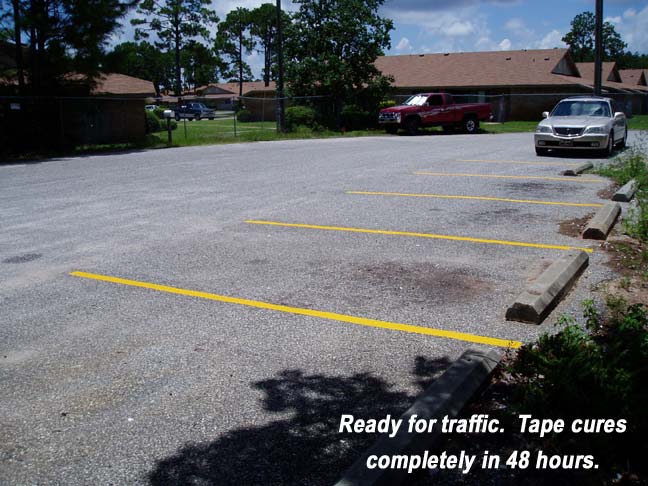 Because of glass beads embedded in the material, the lines will be either mildly reflective for our standard pavement marking tape, or more reflective for our premium heavy duty tape.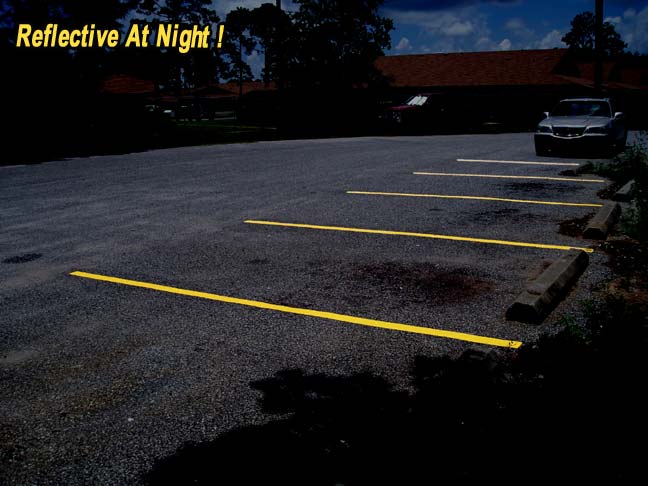 Store unused tape in a cool, dry place. Tape should be used within a year of purchase.
NOTE – The actual performance of our standard and heavy duty traffic tapes will be dependent upon surface and atmospheric conditions at the time of the application, application method, traffic, and exposure conditions. The user should test for conformance to his requirements before making large scale applications. Abrasion or heavy wear may substantially reduce the life of the product.